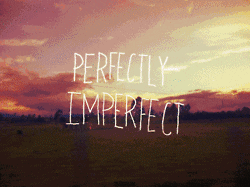 Many people will bring you down by either the smallest or largest of flaws.
They will judge you no matter what you say or try to do in order to stop them. It's a part of life.
You may not be the prettiest person around, but you are beautiful in your own ways.
You may not be the smart one, but you always try your best to succeed in what you know.
You have flaws. Everyone does.
Our flaws don't make us terrible it's show us a description of who we really are deep down, but most people are scared to show them...don't back down.
Stand up straight and wear your crown high.